A few days ago, my friend and former colleague, the funny and talented Greg Bulmash, visited my blog after a prolonged absence. There he saw my latest
What brings you here
post and grew curious about
vampire lesbian girl scouts
.
If I say so myself, the phrase "vampire lesbian girl scouts" all but demands further exploration.
Anyway, he wrote about it on his own blog in what he claimed, in e-mail to me, was an innocent shout-out. But I know what was really going on: he wanted to muscle in on some of that "vampire lesbian girl scout" search traffic. Indeed, as of this moment his post has taken over the top spot from mine in a Google search for that phrase.
The war is on. And this post is my escalation. Presenting the geebobg Vampire Lesbian Girl Scouts t-shirt!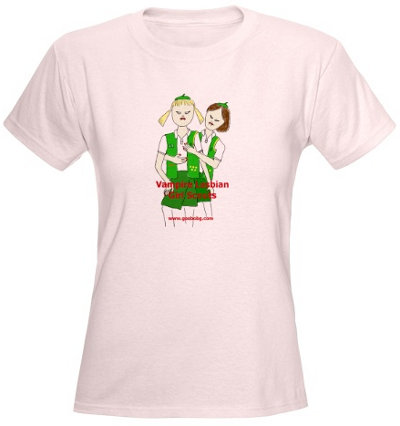 Available in men's and women's styles and a variety of colors in the geebobg CafePress store.
While you're there, pick up a Mucoshave coffee mug for that special someone!