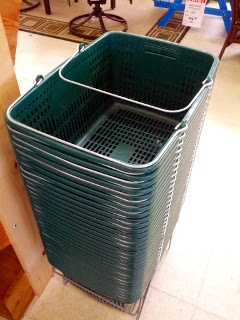 There is no hope, and here's the proof: shoppers often stack empty store baskets with one handle positioned as shown.
It's widely agreed that if we're going to save the world, we have to plan beyond the next quarterly statement, stop being so selfish, reduce our footprint, eat less beef, burn less oil, invest in infrastructure, conserve resources for future generations. But how can we keep future generations in mind when we can't even keep in mind the next shopper who has to stack an empty basket?
Please, let the future begin. Keep the next shopper in mind and move your empty basket handles to the sides.