A British film about Americans in Mexico. That seemed odd. But it didn't stop me from watching 2010's Monsters on Netflix recently, and enjoying it.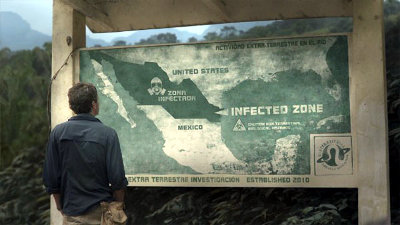 It's six years after a NASA probe to Jupiter's moons crash lands on its return to Earth, "infecting" an area of Northern Mexico near the U.S. border with samples of alien life, which thrive there and multiply, growing huge and destructive. The U.S. has erected an enormous wall along its Mexican border and its military makes regular incursions across it to suppress the creatures and limit their spread. Our two main characters have to make it back to the U.S. while traveling dangerously near, and eventually through, the infected zone. Their journey has a vérité feel and is full of suspense, with a few moments of terror and some interesting character development. By the end I found it compelling enough to go online and see what opinions others had written about it.
I was disappointed by what I found. Without exception the reviews and opinions that I read evaluated Monsters as a conventional monster movie — that is, as a mere shocker — and by that metric many critics found it lacking in terms of horror and body count and creature biology and so on, though everyone commended the guerrilla filmmaking techniques and how far the tiny budget was stretched for the sake of producing credible special effects. The principal filmmaker, Gareth Edwards, is now being talked about as a hot new talent for directing sci-fi epics.
All of which was missing the point. Not one writer commented on the glaringly obvious subtext, the very reason the film was made and the answer to why a British filmmaker chose Mexico as his setting and Americans as his characters: it's a story about the failure of America to adapt to a changing world.
[Spoilers follow.]