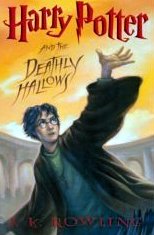 That didn't take long: I finished all 759 pages of Harry Potter and the Deathly Hallows in barely five days.
It's no spoiler to say that the book deals with some pretty heavy themes, as indeed the climax of a seven-part epic must. The action must rise and the emotional stakes must become almost too much to bear. The author, J.K. Rowling, does not disappoint. There is loss and sorrow and despair and other things too, both good and bad, and Rowling played me like a fiddle. All this week, my mood was good when Harry Potter was safe or happy, but miserable the majority of the time as the themes in the story had me dwelling on Alex, my mom, and various other well-loved things in my life that are ending, such as our sons' attendance at the wonderfully offbeat preschool Little Arrows. Even finishing the audiobook of Moby-Dick, which I wasn't particularly enjoying other than as an intellectual appreciation for its place in the annals of literature, was made more poignant by the feelings Rowling was making me have.
It is a further testament to Rowling's mysteriously begotten powers that finally reaching the end of Harry's story after spending most of a decade with him did not also fill me with a feeling of loss, but of fulfillment.
Now, back to my RSS feeds…