I finally got my Honda Fit, the Out on a Whim.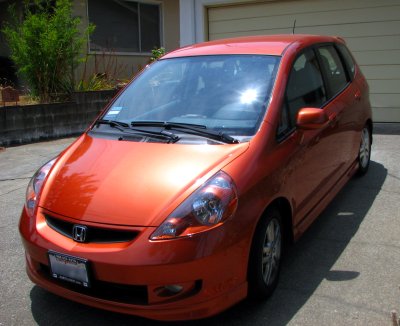 It wasn't easy to find one; in the end, I needed the help of Cartelligent, whose superior service I recommend very highly. At the time I engaged them, my Cartelligent agent, the wonderful Leigh Taylor, informed me (credibly) that there were a total of four Honda Fits in the state of California matching my modest criteria (trim level "Sport," manual transmission). I picked one and they negotiated a price for me, handled most of the paperwork, and transported it to their office in nearby Sausalito, where I took delivery from Leigh a few weeks ago. To top it all off, they found a buyer for the Nimble Imp, my nine-year-old Honda Civic, at about three times the price I expected it to command.
The Nimble Imp, a red 1998 Honda Civic DX hatchback, was the first purchase I made with Amazon.com money after they bought the Internet Movie Database.
It replaced the Compelling Notion, a red 1994 Saturn SC2, which was my first new car.
That came after the Uffish Thought, the gold 1984 Toyota Corolla hatchback in which Alex and I crossed America.
Before that was the Fine Young Chap, a blue 1984 Toyota Corolla sedan. It was named for a comment made about me by the father of my friend Drue, and it was totaled in a four-car collision on the Belt Parkway in Brooklyn (about which more in a future blog post).
That followed the storied Plate-O-Shrimp, a yellow 1977 VW Rabbit, my first college car, memorialized here.
During the few months before college I had the Beta Epsilon, a white 1974 Pontiac Le Mans, a gift from my dad's fiancée, now my stepmother. It was named in loving memory of…
…the Brief Encounter, my first car, a green 1972 Oldsmobile Cutlass Supreme, given to me on extended loan by my friend Joelle, who bought it for herself without knowing how to drive, on the condition that I place myself at her disposal for transportation errands, which I was only too glad to do. It was smelly, it was rusty, it was moldy, and it was missing its gas pedal (you had to press your foot on the bare push-rod), but as Jack Sparrow points out, "It's not just a keel and a hull and a deck and sails, that's what a ship needs, but what a ship is… is freedom."