Today my friend Greg had his birthday party. Andrea and I were responsible for decorations, which took the form of helium balloons and a collection of
six
different cakes painstakingly hand-decorated by us to depict Greg's life.
One of the cakes commemorated an episode from when Greg and I and a few other friends worked together at a technology startup some years ago. For some reason the subject of lesbian-vampire fiction had come up. We guys all endorsed the genre — what's not to love? — but none so heartily as Greg, who was promptly branded the resident lesbian-vampire fancier.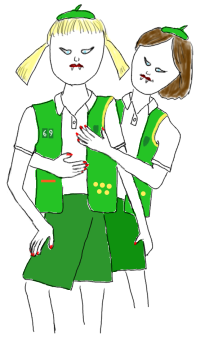 On a separate occasion Greg evinced what we playfully regarded as an unwholesome interest in girl scouts. So during one discussion of the technology we were developing — which among other things permitted users to find the overlaps between separate searches of one's e-mail — we imagined that one such search that Greg might perform would be to find the overlap between "girl scouts" and "lesbians" and "vampires."
Not long after that some of us found Greg crashed out on the couch after an all-night programming session. He was smiling in his sleep, and the consensus was that he was dreaming about vampire lesbian girl scouts. Hence a cutout of this drawing by yours truly gracing one of his cakes.
---
Speaking of helium balloons: some time ago it occurred to me that (a) when helium escapes from a balloon or elsewhere, it must float straight up to the top of the atmosphere where it is effectively unretrievable, and (b) being a "noble" gas, new helium cannot be produced via chemical reactions, only nuclear ones, such as during hydrogen fusion, which is prohibitively expensive. Ergo there must be a limited supply of helium on earth and we are using it up. This deduction turned out to be exactly right, and in fact we may have no more than a couple of decades before helium becomes too scarce and costly for whimsical uses like party balloons or talking in a chipmunk voice, alas.