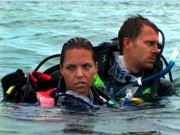 In Open Water, a young couple is accidentally stranded afloat in the middle of the ocean when their diving-tour boat fails to account for their return and leaves the dive site without them. There is nothing in sight but water from horizon to horizon. After a while, night falls. The sharks begin circling. What will they do? What would you do?
Though opinions are divided, I thought the film was outstanding — deeply unsettling and very real. The stranded couple tried everything I thought of to try and cycled through every emotion I imagined it was possible to have. It has a thought-provoking ending that is guaranteed to stay with you — it affected my mood for days. It was based on a true story. And they used real sharks — take that, Steven Spielberg!
In 2003, Open Water was the breakout success story of various indie film festivals. It was inevitable that someone would try to cash in by making a sequel, and now Open Water 2: Adrift has been released direct to video (in the US). In this one, also based on a true story, all the passengers on a pleasure yacht jump into the water — and none of them has thought to lower the dive ladder. It proves impossible to climb back aboard the boat. No one is wearing flotation gear. And a helpless baby is still aboard the yacht! What will they do? What would you do?
Easy. Everyone strips off their swimwear, knotting it all together to make a rope. Someone throws it across a narrow part of the yacht's prow, holding on to one end; everyone else catches it on the other side; and then they all hoist the first person up on board to lower the dive ladder. Rope's not long enough to pass clear across the yacht? (Swimwear can be pretty skimpy in horror movies.) It should still be possible for someone to hook one end onto one of the yacht's cleats with a lucky toss and pull him or herself up. What's the problem?
Yes, they'd end up all back aboard the yacht naked and embarrassed. I'm guessing that's not what happens in the film. Doesn't make much of a horror movie, I suppose. …Unless they are so embarrassed that they make a pact never to speak of the day's events to anyone — until someone starts hunting them down and slaughtering them one by one in gruesome ways that recall the secret they're keeping. I'd call it I Know What You Stupidly Forgot To Do Last Summer.