[This post is participating in Strange Culture's
Film + Faith Blog-a-thon
. Warning: spoilers follow for the book and film
Contact
.
Update
16 Dec: this post is also participating in Joel Schlosberg's
second annual Carl Sagan Memorial Blog-a-thon
.]
I read Carl Sagan's novel, Contact, soon after it was published in the late 1980's, and enjoyed it greatly. It's the story of a radio astronomer, Ellie Arroway, who is the first person on Earth to detect, verify, and begin deciphering a genuine extraterrestrial message.
A considerable part of the story is devoted to the societal implications of Arroway's discovery, especially among various religious communities. As it's depicted in the book, Ellie must suffer various crackpots, blowhards, and garden-variety religious leaders (well-meaning but deluded) spouting their superstitious blather in her quest to secure the resources needed to finish decoding the alien transmission and build the Great Machine.
For the transmission includes, among other things, construction plans for a tremendous and tremendously complicated machine. At its center is a capsule that seats five intrepid adventurers. No one knows what will happen when the machine is switched on. Will the capsule launch into space? Travel through time? Pop into a different dimension? Or is it a weapon that will obliterate the Earth?
The trials involved in achieving the goal of building and activating the Machine are portrayed very much as the power of pure reason overcoming the fetters of fear and ignorance. In the end, Ellie and her fellow travelers are propelled across vast distances and have a surprising encounter with a superior but benevolent race. When they return days later, they discover that no time has elapsed on Earth, leaving a diehard core of doubters free to insist that nothing at all happened, even though there is compelling evidence to support the stories told by Ellie and the others. Science is the clear winner, religion the loser, and it's pure wish fulfillment: what atheist hasn't dreamed of winning one of those unwinnable arguments about faith and science against a true believer?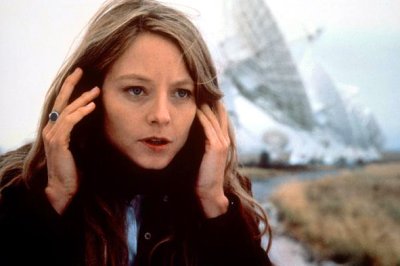 In Robert Zemeckis' film version of Contact, things are subtly different. Ellie is as much an empiricist as in the book, but man-of-God Palmer Joss is much less easy to dismiss out of hand. His interplay with Ellie on the subject of faith leaves her uncharacteristically at a loss, unable to turn him aside by articulating the bedrock principles of skeptical inquiry.
When the time comes to try the Machine, crucially there is room in it for only one person, so that when Ellie returns from her amazing journey there is no one to corroborate her account. There is also a total absence of physical evidence to support her story. Ellie ends up passionately, desperately trying to persuade people to believe what she is certain is true but cannot prove. Palmer Joss sympathetically points out that this is precisely the situation in which persons of faith find themselves.
It's a marvelous storytelling contrivance, and the dialogue and performances drive the point home economically and convincingly. But I left the theater conflicted. On the one hand, the film had excellent performances and astonishing visuals, it was exhilarating to see an intelligent, uncliched portrayal of science and scientists in a mainstream Hollywood movie, and it was in many respects faithful to the novel. Where changes were made, by and large they were to add some emotional depth that had been missing from Sagan's plot- and technology-heavy writing. On the other hand, the rebalancing of science and religion changed what the story was fundamentally about! It offended me that Carl Sagan, recently deceased after a lifetime of science advocacy (today would have been his 73rd birthday, by the way), should have his fantasy about the triumph of humanism and reason watered down for a mass audience!
Over time, though, the film version grew on me and I recognized it as something greater than the source novel: an adventure in which reason triumphs and an exploration of the tangled interrelationship between belief and skepticism. Where I had been hoping to see religious moviegoers get schooled in the virtues of rational thought, instead I had received a lesson about the nuances and complexities of the human experience. The science-beats-religion version of the story had become, to me, overly simplistic. (Sorry, Carl.)
After all, even Mr. Spock admits, near the end of a long career working with humans, that "logic is the beginning of wisdom, not the end."