So, how many two-time Grammy nominees rang your doorbell at dinnertime last night?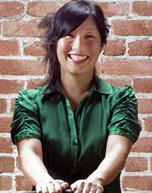 We got an unexpected visit from Kayo Miki, a violinist with Quartet San Francisco, stopping by on her way to L.A. for the awards show. Her friends, our next-door neighbors, had already left for L.A. to attend the show, had forgotten some things at home, and had asked her to pick them up and bring them along; and since we have the neighbors' keys for feeding Slater, their cat, we were her first stop.
We chatted as I let her into the neighbors' house and she explained that they're nominated in the "Classical Music Crossover Album" category and they're up against Brian Setzer (!) and The Mormon Tabernacle Choir — as if those others need any more publicity. Good luck tomorrow night to Quartet San Francisco!