It all started when my dad painted a Friendly Lion to watch over my crib when I was an infant.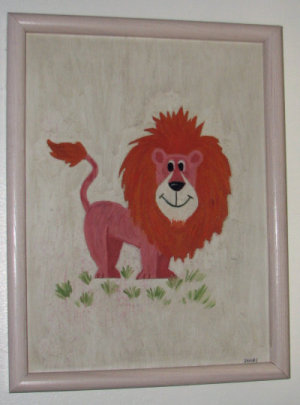 The painting hung in my room my whole childhood (and as of a few years ago hangs near my bed once more).

Years later I wrote a programming book for O'Reilly and Associates, a publisher known for decorating their book covers with animals. Their popular title Programming Perl is colloquially known as "the camel book," for instance. I was hoping for a dog on my cover (after all, Alex the dog appears in the acknowledgments), but I was randomly assigned a giraffe. My disappointment was short-lived as the serene and stately giant grew on me.

The next year I went on a trip to San Diego and the famous zoo there. At the giraffe enclosure a guide explained that their youngest giraffe, Ahiti, was only just learning to eat acacia leaves by stripping them from the branch with his teeth. Some of us got a chance to feed Ahiti and help him learn! When it was my turn I held out an acacia branch.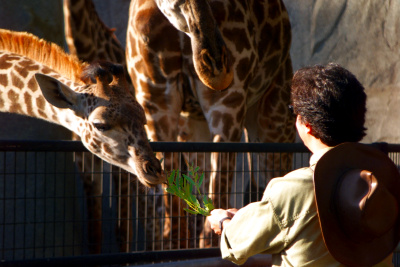 Ahiti bent down, curled his long tongue around the branch, dribbled some surprisingly sticky saliva onto it and my hands, clamped his teeth and pulled his head back. Many of the leaves remained attached, sliding right through his inexpert bite. He tried once or twice more and did better — he was learning! Then it was someone else's turn. But I was hooked: I had helped teach a baby giraffe to eat. Giraffes were now incontrovertibly "my" animal.
So when Andrea and I were expecting our first baby, the thought occurred to me that I ought to create a guardian animal for him like my dad had for me, and the obvious choice of guardian was a giraffe.
I abandoned my first attempt when I decided it lacked the cartoonish appeal that made my Lion so Friendly: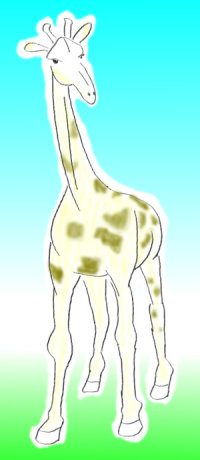 and settled on something much more stylized: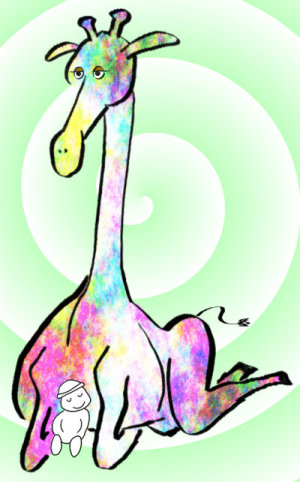 although we never hung it up by Jonah's crib in favor of a beautiful custom quilt made for Jonah by a family friend, featuring giraffes and other animals.
As of a few days ago we're now full circle: Jonah has just drawn his first fully realized giraffe, and it's amazing.