[This post is participating in South Dakota Dark's
X-Files blog-a-thon
.]
I can't resist a good blog-a-thon, and South Dakota Dark's X-Files blog-a-thon, anticipating tomorrow's release of the new X-Files movie, seemed as good as any. For the past couple of weeks I watched the date of the blog-a-thon approach and waited for a good idea to strike. By the time it began on Sunday, none had yet. And I don't appear to be the only one — sad to say, the X-Files blog-a-thon appears to be even more sparsely attended than my "I Can Do It Better" blog-a-thon of a few months ago.
What can account for this? The X-Files was a major pop-culture phenomenon in its time. Was its time too recent? It takes a while to ferment a classic after all. Those who were fans while the show was on the air have long since moved on, finding no shortage of well-written, well-acted conspiracy/mystery/thriller/science-fiction shows. (I'm thinking particularly of Lost, whose jaw-dropping third season I just finished on DVD last night.) And it takes more than a scant decade for a new nostalgia-minded fan base to build.
As for myself, every time I tried to think of what to write about The X-Files, my mind kept drifting instead to The West Wing. Why was that happening? I think I know, and if I'm right, it doesn't augur well for tomorrow's premiere.
During the late 90's, Andrea and I used to love sitting down and watching The West Wing each week. It took place in a progressive paradise where, even though the moneyed interests sometimes won — it was about presidential politics, after all, and dealt believably with moral and political dilemmas — at least the public interest was usually uppermost in the minds of the fictional senior officials.
Star Trek had nothing on The West Wing when it came to enticing visions of an enlightened possible future.
That all came to an abrupt end during a few wrenching weeks in late 2000. The real-life presidential election results were up in the air, hinging on voting irregularities in Florida. The bad guys gamed the system and bent the rules to get the count to go their way. The good guys, being too principled, didn't put up enough of a fight. During those weeks there were reversals of fortune and counter-reversals and counter-counter-reversals. I was a wreck. I followed every development as closely as I could and each scrap of news flayed my nerves raw. Democracy itself was under attack, and everyone involved in the battle had a stake in the outcome — meaning there was no disinterested authority to help settle the matter reasonably, not even, in the end, the Supreme Court. That authority vacuum felt like a taste of anarchy; the election battle, a gang fight in a bad neighborhood where the cops never patrol. The bad guys won, democracy lost — and at once The West Wing went from uplifting, optimistic, educational entertainment to simple-minded, far-fetched wish-fulfillment fantasy. The very thought of watching another episode was almost too painful to bear. We did try a few times, but we weren't entertained and we weren't optimistic for the future. The show's only remaining power was to remind us of the brutality perpetrated on our ideals and the ease and speed with which it had been done, and was continuing to be done.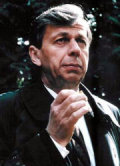 I think something similar may have happened to X-Files fandom. After seven and a half years of George Bush, who could be entertained by the idea of a shadowy government conspiracy? Who would even find such a story remarkable? Our real-life news is a constant barrage of conspiracies and corruption taking place in broad daylight. Cigarette-Smoking Man, with his furtive ways, would be laughed out of the Bush administration! The Lone Gunmen wouldn't be three weirdos in a basement shining light on official misdeeds, they'd be DailyKos! As for Mulder and Scully, if they wanted to keep their jobs at the FBI they'd have to accept assignments trumping up new terrorism fears, busting consumers sharing mixtapes, or cracking down on porn. (Hmm, that's one Mulder might actually like.)
Well, there's one thing that George Bush hasn't managed to ruin, and that's a good working relationship between two intelligent people with a lot of integrity and courage and a little sexual tension. If the producers were smart and made the movie be about that, then tomorrow's premiere stands a decent chance.