Can it really have been more than a year since
my last Star Wars-related post
? Well, here's a quickie:
In the original Star Wars, Princess Leia's name is uttered three times: once by Governor Tarkin, once by C-3PO, and once by General Dodonna. They all pronounce it "lee-uh."
So why is it that the whole world was saying "lay-uh" almost immediately after the film's release, and how did that become the accepted pronunciation by the time of The Empire Strikes Back three years later?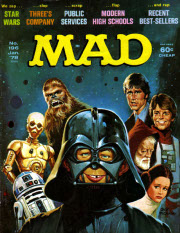 Maybe it's Mad magazine's fault for calling her Princess Laidup in their parody. Maybe the fact that her last name sounds close to "orgasma" reinforces certain mental associations. Maybe Donny and Marie's contemporaneous film, Goin' Coconuts, had everyone thinking about Hawaiian leis.
Maybe it's just that most people inexplicably saw the movie fewer than twenty times in 1977 and didn't commit the entire soundtrack to memory. Well I'm not one of them, and I don't care how many awesome "lay-uh" puns there are, I'm sticking with lee-uh.