The BBC has recognized outspoken atheist Richard Dawkins as their
2006 Person of the Year
. That made me think of the original
Star Trek
.

When writing about the appeal of the original Star Trek it has become de rigeur to cite its optimistic vision for the future — in which war, racial strife, etc. have been overcome — especially since it appeared during the turbulence of the 1960's. But I think the real answer is something deeper and more essential.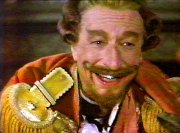 First, a digression. In The Adventures of Baron Munchausen, the Baron, that lovable spinner of fantastical tall tales, is opposed by "The Right Ordinary Horatio Jackson," a literal-minded and distinctly unlovable bureaucrat who prizes order and rationality over the creative chaos of the Baron's world. The film depicts rationality robbing the world of adventure and romance.
American pop culture has always been hard on men of reason, who usually come off as amoral, insensitive, clumsy, narrow-minded, unpoetic, socially inept, or downright mad. Dreamers, lovers, men of action — they are the heroes, and anyone employing logic is a mere detractor if not an out-and-out villain.
In the popular imagination, the intellect is suspect. Thinkers in general, and scientists in particular, are a haughty elite, the priests and guardians of an occult sect with its own impenetrable apocrypha and incomprehensible dialects. They set themselves up as authorities on various subjects and make pronouncements based on arcane knowledge that are never to be trusted, because there's always a contradictory pronouncement just around the corner.
But in reality, what can be more democratic than science? It's the ultimate leveler; anyone can be an authority. Science isn't a particular collection of knowledge or a particular place or particular people. Science is a method, famously encapsulated by Richard Feynman as: "1. Make a guess. 2. See if you're wrong." Anyone who thinks according to these rules, and follows fearlessly where the reasoning leads, is a scientist.
If democracy is the founding principle of America, science and rationality are its true religion. They are the bedrock on which its political and industrial institutions are built, even at times when science seems temporarily discredited by the prevailing political fashions of the day.
Yet, even as science is central to the American experience, it gets short shrift in popular culture. Often marginalized, occasionally trashed, seldom if ever was it celebrated properly — until Star Trek. The accomplishment of Star Trek, and the true source of its enduring appeal, was its portrayal of a future in which rationality does not kill adventure and romance but creates them, satisfying the unmet need of Americans to see their society validated — or, as one like-minded fan commented recently,
It isn't Star Trek's "optimism" that made it great. It's the idea that in the future the Carl Sagans of the universe will be in charge and successfully run society on the principles of secular humanism and science while the George Bush and Dick Cheneys of the universe are Klingons. Star Trek is about the promise of a new Enlightenment […]
As a champion of romantic rationality and a lifelong Star Trek fan I am encouraged by the selection of Dawkins as BBC's Person of the Year. Atheism has always been the belief-that-dares-not-speak-its-name. Even at the height of the Age of Reason, Thomas Jefferson, whom we might recognize as an atheist, called himself a Deist. But this news about Dawkins, and other harbingers (here, here, and here), suggest that atheism is coming out of the closet in a big way, which can only happen in an environment favorable to rationality. Can it be that the recent wave of anti-intellectualism in the Western world finally crested, crashed on the jagged rocks of the reality-based community, and is now receding?
That would be good news for the back-to-its-roots Star Trek movie now in development.