I used the following story at work the other day to illustrate why some of us should avoid some ill-advised shortcuts and choose instead to stand up to critics of how long our project is taking:
In 1995, when my primary flight training was complete, it was time for my checkride to see whether I'd become a licensed pilot or not. For the checkride I had to fly from my home airport, Petaluma, to the FAA examiner's airport, Santa Rosa (er, the Charles M. Schulz Sonoma County Airport — yes, that Charles Schulz). That flight was uneventful. When I arrived I shut down and secured the plane as usual, then went in to talk to the examiner for a while before we began the "practical" (flying) portion of the examination.
Unlike Petaluma, Santa Rosa has a control tower, which means you must radio for permission to taxi. So after preflighting the plane, climbing aboard, strapping in, putting on my headset, starting the engine, and performing the pre-taxi checklist, I radioed the tower. "Santa Rosa ground, Cessna 24498 on the main ramp, taxi to the active with Foxtrot." The tower did not respond, which is not too unusual as control towers sometimes get busy and taxi clearances get low priority. So after a few seconds I radioed again. "Santa Rosa ground, Cessna 24498 on the main ramp, taxi to the active with Foxtrot." Still nothing. I double-checked the frequency to which the radio was tuned, waited a few seconds and tried again. Then again. Finally after several long minutes, with the instructor waiting patiently beside me (and was that a bemused smile on his face the whole time?), I noticed that I'd forgotten to plug the headsets into the radio stack! The instructor and I were able to talk to each other but not to the tower.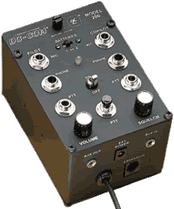 Flustered, I explained to the instructor that this was my first time using a two-person intercom with the radio stack. (In small planes, very often the intercom is a separate little box that the pilot owns. Two headsets plug into it, then the box — which usually ends up wedged between the front seats or knocking around loose on the floor of the cabin — plugs into the radio. Before the checkride, I flew solo with no need for an intercom — my headset plugged right into the radio — and before flying solo, my instructor would always set up his intercom for us to use.) The examiner put me at ease, saying, "Anyone could have forgotten to plug in the intercom. It's not on the checklist. A poor student would have given up and started taxiing without clearance. You did what you were supposed to do, even if it took a little longer."
About an hour later I was a licensed pilot.
Moral of the story: if it takes a little longer to do things right because you haven't thought of everything, it's still better than the alternative.