As seniors at
Hunter College High School
we were allowed to choose our own yearbook photos. Everyone began scratching their heads to come up with just the right way to be memorialized for the ages (or at least until our first reunion shattered the images we had created for ourselves). The results were in many cases amazingly creative.
My own idea was not so much creative as derivative, but it made up in ambition what it lacked in originality: I wanted to be James Bond. To do that I would need:
A tuxedo
An exotic sports car
Multiple gorgeous women surrounding me
I knew where to get the first; Chuck and I had already rented tuxedoes once, when attending the sweet sixteen party to which we'd wrangled invitations by questionable means. On this occasion I rented just the top half of a tuxedo because (a) it was cheaper and (b) in black-and-white and at the small resolution of yearbook photos, any old dark pants would do.
I had an idea where to "get" the exotic sports car. There was a Ferrari dealership in midtown Manhattan, not far from the subway route that I rode each day to and from school. I stopped by there one afternoon to ask the manager how he'd feel about it if I came down with a few friends to take some pictures for the high school yearbook. I offered to pay for the privilege, an amount that probably seemed large to me but almost certainly was tiny. He allowed as he might permit us to share a sight-line or two from afar with one of his pristine automotive works of art.
The hard part was going to be the multiple gorgeous women. …Or so I thought! I had underestimated either my own charm or the desire of girls just to have fun, but the first three hotties from my graduating class whom I approached with this idea all consented to participate.
On the appointed day I was distressed to see that Susie, one of my gorgeous women, had dressed frowsily. "Don't worry," she assured me. "I have something nice to change into when we get there."
Susie, Paula, Irene, and I made our way to the dealership after school along with Chuck, who was the cameraman. When we arrived, the bored sales staff who had barely given me the time of day a few days earlier all jumped to attention at the sight of the pulchritude I had in tow.
I pulled my rented dress shirt, dinner jacket, and accessories from a garment bag I was carrying. Susie asked for a bathroom in which to change. When she emerged wearing only a string bikini I forgot to breathe or close my mouth for a while. The eyeballs and tongues of the sales staff were not tucked as far back in their heads as usual.
The manager fell all over himself giving us access to the showroom and making editorial suggestions. We took a few dozen shots in various poses, up close and personal with some of the most amazing cars in the world. The girls got in character, really vamping it up. And though the image I was trying to project was one of Bond-like sophistication and suaveté, in fact I was far out of my depth. Being so close to such immaculate and expensive machines made me uncomfortable, and the (to my inhibited mind) lavish display of teen sexuality did not help matters.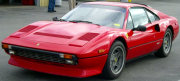 But in all it was a lot of fun. The high point was when the manager suggested I climb into the driver's seat of a gleaming red 308 (oh okay) and handed me the keys… to lower the window. We took a few shots like that, the girls trying to arrange their faces around the window as I gripped the wheel of a Ferrari.
In the days that followed, my description of that moment was like this exchange from the end of The Rocketeer:
Howard Hughes: I've been meaning to ask you, what was it like, strapping that thing to your back and flying like a bat out of hell?

Cliff Secord: It was the closest I'll ever get to heaven, Mr. Hughes.
(Of course, in the film, Cliff then glances over at his girlfriend Jenny and has the good sense to add, "Well, maybe not." But like the stupid 17-year-old I was, I was more dazzled by the Ferraris than by the girls pretending to fawn over me.)
Only a few shots turned out to be any good and in the end I chose one that barely showed the car at all. I captioned it with this quote from Norton Juster's children's classic, The Phantom Tollbooth:
"Then where is Reality?" barked Tock.
"Right here!" cried Alec, waving his arms. "You're standing in the middle of Main Street!"
which at the time I thought was very profound, taken out of context; and then for a long while didn't; and now kind of do, again.