We did an amazing thing today.
As usual, Andrea had to drag me out of the house to it. I'm getting over a cold and all I wanted to do was catch up on blogging and work and Netflix discs, all of which sounded more interesting than driving to Point Reyes Station to see the culmination of the Giacomini Wetlands restoration project. But Andrea insisted, and I'm glad she did because she was right as usual, and it was amazing.
It's a former marsh that was walled off from Pacific tides sixty years ago with a series of levees to create pastureland for cattle. Eight years ago the land was purchased by the National Park Service to begin a wetlands restoration project, which it turns out is a lot more complex than merely ripping out the levees. It's taken from then until now for the project to reach its climax, which happened at high tide this morning. The public was invited to trek across the former ranch as water poured through a brand-new levee break and flooded the land for the first time in three generations.
Turnout was huge. Hundreds of nature-lovers showed up on a crisp, picture-perfect autumn morning to walk across a vast flat range of grasses and overturned dusty soil where construction machinery had been hard at work. A shallow channel was dug into the ground, making a straight line for the open water that we could see on the horizon; and when we'd walked far enough across the pasture, we came to a spot where a trickle of water was turning the dusty channel bed damp. As we watched, fingers of mucky water reached inland, inch by inch.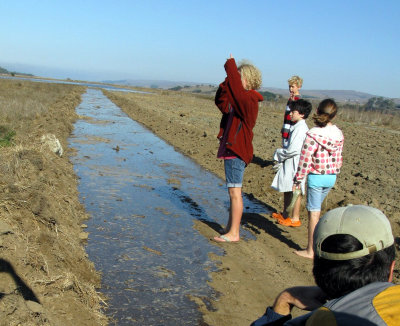 We stepped out of the channel onto the grass, which lay a few inches higher, as the water slowly overtook the spot where we'd been standing. Jonah and Archer tentatively placed their feet in the new muck.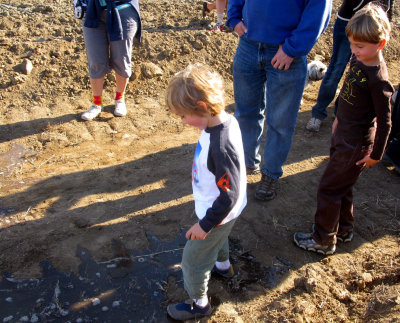 A few minutes later they were notably less tentative.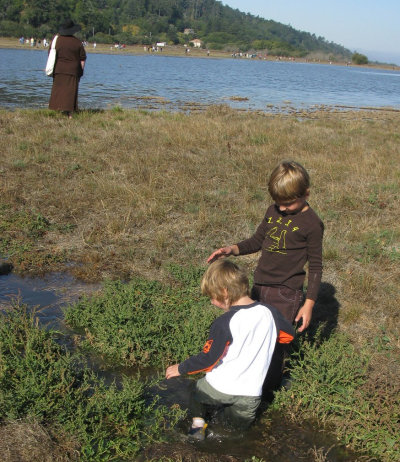 All the grownups in the vicinity participated vicariously in Jonah's and Archer's delight at tromping through the mud, splashing in a dozen brand-new streams, pitching pebbles, ripping up tufts of grass, and conducting miniature impromptu soil-engineering projects. One onlooker commented to us, "Boy heaven." (Lamentably, we saw almost no other children with anything approaching the liberty that we gave Jonah and Archer to explore and get absolutely filthy.)
Wherever we saw a limb of water, we could watch it reach into the low places in the land, rills of water filling one tiny depression after another. In some places the matted vegetation underfoot would grow first squishy and then splashy. Now and then a field mouse would emerge from a flooding hole and head for higher ground. Clods of dry soil would darken, crumble, then melt into thick dark mud through which Jonah and Archer gleefully trod. (We're amazed it never sucked their shoes off.) Newly flooded sections of the plain bubbled noisily long after the last bit of earth was covered up.
When the tide began sluggishly to reverse itself, we retraced our steps through the pasture — at least, those parts of it that were still dry — returned to our cars, and reconvened a few miles down the road for a champagne celebration with the Park Service rangers and scientists for whom this was not merely an incredibly cool way to spend a Sunday morning. That it had been a lot of hard work was obvious, as was their satisfaction at its outcome.