Halloween, 1998: I take a weekend trip to San Diego with my girlfriend, Andrea, and a few other friends. Money's tight, in part because I haven't drawn a salary from
my struggling startup company
for over two years, but that's OK: our friends, most of whom are graduate students, are all broke too, so we crash in the living room of a couple we've come to see. We visit the San Diego Zoo, where
I meet and feed a baby giraffe
.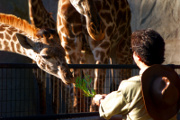 My friend Paul captures the event (and much else from the weekend) on an amazing new device: an SLR camera body that has been partially hollowed out and fitted with a digital sensor and a small LCD display on the back (since the prism is gone and the viewfinder no longer works). It's borrowed from the university where he works, which custom-built it for about ten thousand dollars. He shares the resulting digital photos with the rest of us by putting them on his department's web server, but only temporarily because they take up so much disk space that he has to delete them after a few weeks.
1.25 decades later: Andrea is now my wife. We visit San Diego again. Thanks in part to income from my startup company, we have the means to stay in a hotel, and not only to visit the San Diego Zoo but to spring for their Safari Park's "Roar and Snore" overnight camping experience. For his part, Paul is now an Academy-Award-winning computer-graphics researcher. Digital cameras on a par with his custom-built experimental rig from 1998 can now be had for around a hundred bucks and are so ubiquitous that they've all but killed the consumer film business. Disk space, likewise, is cheap enough that the company I work for has made a lucrative business out of giving away essentially unlimited amounts of it for free. I meet and feed not one giraffe, but two…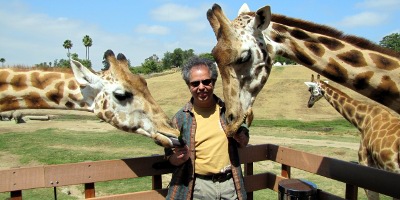 …and two amazing people who didn't even exist 1.25 decades ago feed some giraffes too.