Alumni of
Hunter College High School
always seem compelled to mention that it's where they attended the seventh through twelfth grades, when others would simply say "where I went to high school."
It's understandable. First there's the confusing name of the place: it's neither a college nor merely a high school. Second, when you're in the habit of telling stories from high school, and some of them take place in 1978 and some take place in 1984, unless you're diligent about the seventh-through-twelfth disclaimer sooner or later someone is going to do the mental arithmetic and wonder.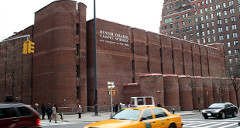 As a junior, late in 1982, a few friends and I felt the urge to write and perform a collection of short one-act plays. With faculty help we ended up founding The Brick Prison Playhouse (so called because the school's appearance earned it the affectionate nickname "the brick prison"), a repertory group for performing student-written plays, as opposed to the existing repertory groups that performed established plays and musicals.
Our first performances took place on February 10th and 11th, 1983. They were a success and a lot of fun. After the last performance the entire playhouse group trekked through Central Park in a light snowfall to the Upper West Side apartment of our friend Michael, where we had a memorable cast party — and ended up snowed in. The only reason I know the exact dates is because it was the great New York Blizzard of 1983.
The next morning, I had to make it back to Queens, but transit had been only partially restored throughout the city. Exiting Michael's building I was amazed to discover that Broadway was navigable only via a shoulder-high snow trench, just wide enough for two pedestrians to squeeze past each other. Through this narrow channel I worked my way downtown to where working buses and subways could be found — with my also-Queens-bound friend Steve in tow, on crutches with a broken ankle!
(Steve was the best writer in our group. The most talented actor among us was Andrew. I'm pleased to report that today Steve is a professional writer and Andrew a professional actor.)
On the radio program Fresh Air the other day, I heard an interview with the journalist Chris Hayes. In it, he mentions that he grew up in New York City, attended a school from the seventh through the twelfth grades, and performed in a student-written play in the eighth grade. From this I concluded (correctly) that Hayes is a Hunter alumnus, and that The Brick Prison Playhouse still exists!
It occurs to me this is the second blog post in a row where I lay claim to an unacknowledged legacy. Well, acknowledged or not, this one's an agreeable legacy to have, and the Brick Prison Playhouse's near-mention on Terry Gross's widely heard radio show is a nice little brush with fame on this, its thirtieth anniversary.